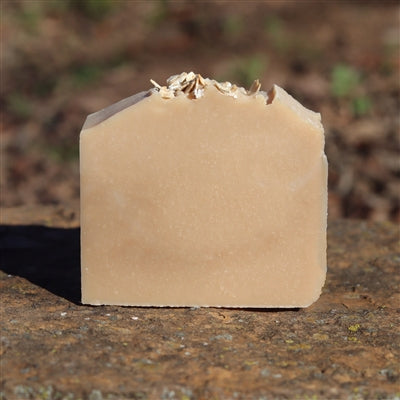 Buy 3 Soaps Save 20% "Oatmeal and Honey" is a handcrafted 100% vegan soap. In addition to Colloidal Oatmeal powder and Honey, this soap is made with plant-based oils. A lathery skin moisturizing combination! Perfect for babies and those with sensitive skin! Creamy rich lather. This soap is garnished with raw oats that ...Read more
Description
Buy 3 Soaps Save 20%
"Oatmeal and Honey" is a handcrafted 100% vegan soap. In addition to Colloidal Oatmeal powder and Honey, this soap is made with plant-based oils. A lathery skin moisturizing combination! Perfect for babies and those with sensitive skin! Creamy rich lather. This soap is garnished with raw oats that can be removed prior to use. A TBN best seller!
Tahamí By Nature soaps are handmade, in small batches, with the Mother Earth's best ingredients. Our soaps are created with skin-loving ingredients that create amazing lather while promoting increased hydration. We use no artificial lathering agents. Enhanced with Colloidal Oatmeal and Honey.

• All-Natural Plant-Based Oils and Butters
• Vegan (No Animal Products Used)
• No Harsh Chemicals or Detergents
• Paraben, Phthalate & Sulfate Free
• No Synthetic Fragrances or Dyes
• No Preservatives


Tahamí soaps are handmade in small batches using the cold process method. Please allow for slight differences in appearance.
Caring for your handcraft TBN soap:
Tahamí handcraft soaps are high in glycerin. Glycerin is a humectant (attracts water) that is good for your skin but will cause your soap to dissolve prematurely if left in water. Keep your soap in a soap dish that allows for complete draining and drying of your soap between uses. 
Ingredients: 
Olea Europaea (Olive) Fruit Oil, Cocos Nucifera (Coconut) Oil, Water, Elaeis Guineensis (Palm) Oil, Theobroma Cacao (Cocoa) Seed Butter, Sodium Hydroxide, Ricinus Communis Seed Oil, and Avena Sativa kernel (Colloidal oatmeal) Flour, and Honey.