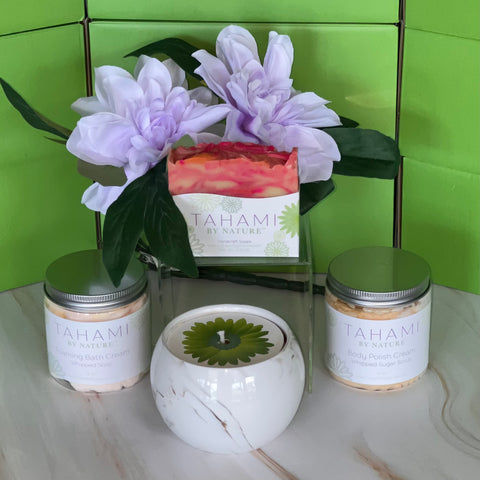 *****Last Day to Order for On-time Delivery - May 10th***** *****15% Discount if Sold Separately***** This delightful, beautiful Mother's Day gift will be delivered packaged in a green mailer, ready for wrapping or delivery as is. Each gift contains an 8 oz. Foaming Bath Cream, an 8 oz. Body Polish Cream,  a 13 oz. soy ...Read more
Description
*****Last Day to Order for On-time Delivery - May 10th*****
*****15% Discount if Sold Separately*****
This delightful, beautiful Mother's Day gift will be delivered packaged in a green mailer, ready for wrapping or delivery as is. Each gift contains an 8 oz. Foaming Bath Cream, an 8 oz. Body Polish Cream,  a 13 oz. soy candle in a gorgeous reusable ceramic vessel, and a full-size bar of "A Thousand Times Yes" handcraft soap.
We have selected from our most popular products in the most popular fragrance designed to make Mom happy.
Fragrance Selections:
Foaming Bath Cream - Mango Tango or Juicee Juice

Body Polish Cream - Manog Tango or Juicee Juice 
Soy Candles - Chai Girl (Woodsy/Earthy), Just Peachy (Fruity/Fresh), Slow Dance (Floral/Botanical), Oh, Honey Please (Floral/Botanical), Lime in Her Coconut (Fruity/Fresh), A Damn Goddess (Boudoir) 
NON-TOXIC AND CONTAIN NO LEAD, PLASTICS, PARABEN, SYNTHETIC DYES, OR PHTHALATES
CANDLE CARE TIPS:
Examine the candle and wick with each use.
Keep the wick trimmed to 1/4"
For initial use, allow the complete melt pool to develop. This will prevent 
tunneling" and let your candle last longer with a better scent throw.
Burn your candle for 1-3 hours each time, depending on size. This will prevent the "candle memory" from creating a small melt pool.
Burn your candle for no more than 4 hours.
USE ON STABLE HEAT-RESISTANT SURFACE
Tahamí soaps are handmade in small batches using the cold process method. Please allow for slight differences in appearance.
Caring for your handcraft TBN soap: 
Tahamí handcraft soaps are high in glycerin. Glycerin is a humectant (attracts water) that is good for your skin but will cause your soap to dissolve prematurely if left in water. Keep your soap in a soap dish that allows for complete draining and drying of your soap between uses.