A THOUSAND TIMES YES SOAP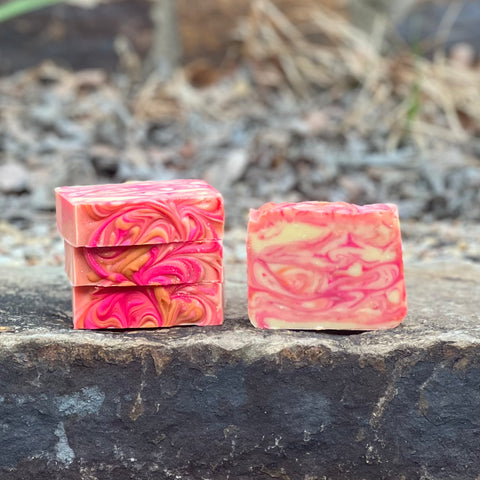 Buy 3 Soaps Save 20% PRE-ORDER ITEM ONLY UNTIL MARCH 6TH - IF ORDERED WITH OTHER ITEMS, YOUR ORDER WILL NOT SHIP UNTIL APRIL 17TH "A Thousand Times Yes" You cannot say "no" to this artisan soap made with a sensual combination of amber, and sandalwood, with fruit and floral fragrance notes that will transport you to a f ...Read more
Description
Buy 3 Soaps Save 20%
PRE-ORDER ITEM ONLY UNTIL MARCH 6TH - IF ORDERED WITH OTHER ITEMS, YOUR ORDER WILL NOT SHIP UNTIL APRIL 17TH
"A Thousand Times Yes" You cannot say "no" to this artisan soap made with a sensual combination of amber, and sandalwood, with fruit and floral fragrance notes that will transport you to a floral garden
. Truly relaxing... 
Handcrafted with Sweet Almond and Olive oils that will leave your skin saying, "Thank you for loving me." A great gift idea and perfect bath time treat.

Tahamí By Nature soaps are handmade, in small batches, with the Mother Earth's best ingredients. Our soaps are created with skin-loving ingredients that create amazing lather while promoting increased hydration. We use no artificial lathering agents. 


•
All-Natural Plant-Based Oils
• No Harsh Chemicals or Detergents
• Paraben, Phthalate & Sulfate Free
• No Preservatives
• Vegan Product


Tahamí soaps are handmade in small batches using the cold process method. Please allow for slight differences in appearance.
Caring for your handcraft TBN soap:
Tahamí handcraft soaps are high in glycerin. Glycerin is a humectant (attracts water) that is good for your skin but will cause your soap to dissolve prematurely if left in water. Keep your soap in a soap dish that allows for complete draining and drying of your soap between uses.
Ingredients: 
Olea Europaea (Olive) Fruit Oil, Cocos Nucifera (Coconut) Oil, Elaeis Guineensis (Palm) Oil, Prunus Amygdalus Dulcis (Sweet Almond) Oil, Ricinus Communis Seed Oil, Fragrance, Mica, Titanium Dioxide, Tin Dioxide, and Iron Oxide.